Hot Springs @ Musique-Plus
Earlier last night, I went and caught the Hot Springs at Musique-Plus, the Quebecois affiliate of Canada's Muchmusic. There was a flurry of heavily accented French and free Jos Louis treats available after the performance.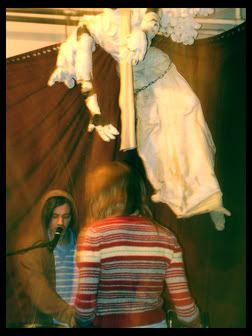 DreamCatcher @ The Electric Tractor
One half of Suicide meets Flux Information Sciences without any stage presence whatsoever, unfortunately...

The Unireverse @ The Electric Tractor
Three men with an array of synthesizers, a tape machine and a drum machine performing songs, one being an ode to failed 20th century attempts to build infrastructure on the sun.

l-r: Bearded man with Michael Doerksen.