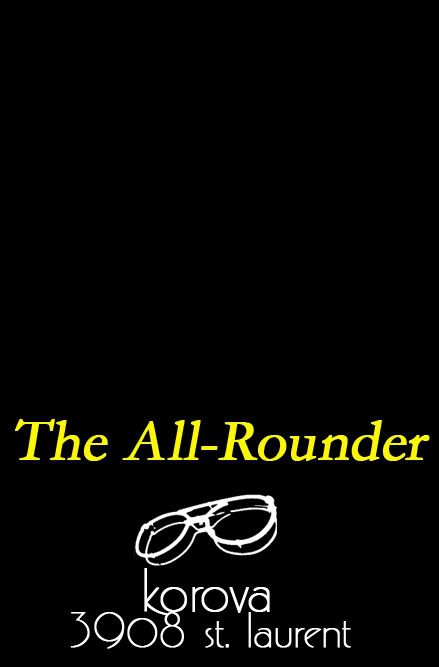 Zukunftsmusik, Italo, Soul, R&B, midnight rhythms, New Jack Swing, Hip hop, Miami Bass, Disco, proto-house, new wave, hip house, pop, Afro-beat, Tropicalia, Latin freestyle, Northern Soul, champagne pop, yacht rock.
Always present: proprietor and a true humanitarian, Nicolas Jules Robinson (
Nick The Prick
); behind-bar reader & bartender Naomi; gentlemen of the door, Stephen or Simon.
For those of you less-inclined to tear up the dancefloor, there are diversions - the Pabst Blue Ribbon vending machine, ol' tyme arcade games, a pool table, a neon light, a fooseball table, and the sparkling wit and genteel conversation of the staff.
Korova received Honourable Mentions in the Best Dance Club and Best Pick Up Club (!!!) category in the
Montreal Mirror
's Best of 2007 Poll. Nice.
"

If that's not your cup of yerba mate, or you're wondering what happened to the rest of the Baile MTL crew, roll around the corner to Korova for a sophisticated evening of Italo, yacht rock, new jack swing and many other esoteric subgenres of pop music you hoped and prayed would be buried under the sands of time until the Internet came along and, well, they started to seem sorta cool again. That's at the AllRounder, with funny guys Jay Watts III and Mark Dufort.

"
- Jack Oatman, Montreal Mirror, 1/31/08

I~ Dec 8th w/
Insomniak
II~ Dec 15th w/
Alexander Buckiewicz-Smith (ABS)
III~ Dec 22nd
IV~ Dec 29th w/
North
(
S.L.U.M.
)
V~ Jan 5th w/
Khiasma
(Baile MTL, Ivory Temple, Pop MTL)
VI~ Jan 12th w/
Molo Bain
VII~ Jan 19th w/
Jonathan AFlyIsOnTheWall
,
Heidy Pinet
VIII~ Jan 26th
IX~ Feb 2nd
X~ Feb 9th w/
Masala
XI~ Feb 16thw/
E.C.P.
XII~ Feb 23rd
XIII~ Mar 1st
XIV~ Mar 8th w/
Mr. Vain
XV~ Mar 15th IDES OF MARCH w/
DJ Deadbeat Dad
XVI~ Mar 22nd
XVII~ Mar 29th
XVIII~ Apr 5th
XIX~ Apr 12th w/
Alexander Buckiewicz-Smith (ABS)
XX~ Apr 19th w/
5 hours of Jay Watts III
XXI~ Apr 26th w/
Mark Slutsky
XXII~ May 3rd w/
Justin Time
XXIII~ May 10
Space Dust
w/
Deadbeat Dad
XXIV~ May 17
Goodbye Mark D.
XXV~ May 24
Simon Nixon
(
Royal Mountain Band
)
XXVI~ May 31
5 hours of Jay Watts III
XXVII

~ June 7
Steven Balogh (Anemones), Joshua Stevenson (Jackie O Motherfucker), Jay Watts III, Mich
elle Fritzi Adelman