My friend Jordan said something the other night to the effect that his being unable to listen to Fleetwood Mac was akin to an incest survivor being unable to enjoy sex, and while it's a bit of an icky metaphor, I feel the same way about the Eagles and AC/DC. Traumatic childhood experiences have imbued the music with a dark and dank power that casts a shadow, and only years of therapy and unconditional positive regard from a mentor or lover will heal the scars...


Fleetwood Mac - I Know I'm Not Wrong.m4a
I know the re-assessment of Fleetwood Mac by members of my generation and the critics who speak for us (?) quite a while ago, at least a whole month before Kate Bush popped up on the revival radar, but I'm still not entirely behind it. MOJO magazine's story on Tusk gave me the hard-sell, but I only came out of the album clutching this song, a handsomely crafted piece of pop bric-a-brac that I assume was recorded in a Silver Lake closet, with napkin boxes substituting for Mick Fleetwood's drum set and Lindsay Buckingham barking orders to a paranoid and strung-out Stevie Nicks.


Incidentally, Cameron Crowe's newest film Elizabethtown is sure to be an unwelcome shit stain in theatres, already polluting the collective cultural space with images of leading star Orlando Bloom and his douchebag pompadour and long-in-the-back combo haircut (Is the Adam and the Ants haircut a knowing nod from one pirate to another?), but the soundtrack does feature one amazing track by a husky-voiced Lindsay Buckingham - a haunting number with fingerpicked guitars and minimal production that might serve as the basis for his initiation into this loosely-defined psych-folk world that's the newest ratchet-hatchet movement to lob handgrenades against the self-serving barricades of protective irony, etc. etc. etc. It's currently floating around on mp3 blogs and other places. Check it and show yr Mom...


Tomorrow or so I'll have a little rundown of a sub-scene of 'bit shy of adolescent sophisto-poppers doing some similar things in Montreal and Victoria... The Dymaxxions, Code Pie, Shapes and Sizes, and The Paper Cranes.


Warrior Magazine has a long awaited issue out, reaching the milestone of the first issue in their second volume, and this one is probably the best yet, in terms of content and design. (T-dot zine-heads n' nerds might have spotted them at this weekend's Canzine Expo.) Beautifully done abstract-geometric cover by editor Tony Trew, great articles on Deerhoof, a conflict-of-interview with Naomi Klein by paint-lobbin' Aaron Maté and plenty more. Anyway, check it out, subscribe: their 1 year anniversary party is coming up this Sunday (November 6th) at Blizzarts in Montreal with yours truly providing some crate-digging gems. More surprises too, check the website.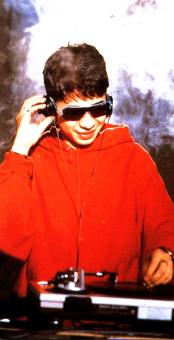 BOMB THE BASS!
Over the last couple of weeks I've come across some interesting pieces of vinyl - Bob Ray's Initiation Of A Mystic album (post-Sunshine Superman pop on the wicked Soul City imprint) in a Salvation Army, a truckload of acid house records along with a promo 12" for Japanese alt-tentacle noise-band Ultra Bide in an alley a couple of blocks from my house... Acid house was supposed to be back again, wasn't it? Around late last year at this time? I'll wait for the vinyl archeologists at 20jazzfunk to alert me on that.