Just the two on the right, thanks.
Given that Eno's newest album is to be his first stab at lyric-based pop music in 25 years or so (according to him), it's an appropriate time to resurrect what might have been if not another stab, at least a slash!

In 1990, Brian Eno and John Cale collaborated on the Wrong Way Up album, ostensibly a Cale solo album that led to a co-credit because of Eno's hijacking, or so some people might have you believe. (I'm suspicious, it wasn't James & Eno Laid, ya know). The album's 10 tracks of varied pastiche-work - music-box melody here, Hawaiian rhythm there, gospel harmonies punching in and out - tends to muddy the waters, but that's both strength and weakness.

The midi-rock vibe hard was to ignore on a couple of the tracks - they'd be better served as bumper music for a campy sit-com, or the more flaccid elements of the Talking Heads (Clap Your Hands Say Yeah! chose to appropriate their feyness), but I got past that, justifying it as Eno Experimentalisationalism, and discovered a surprising album that I'd previously passed over. I'm chosen Spinning Away here, but Lay My Love and One Word are standouts, too. (Check out Eno's MS Paint-style album artwork for an extra treat)

The song is a little overwrought: the presence of aching strings and doubled-up vocals on the chorus atune the listener to the deep pathos and longing of these balding geniuses, and the repetition of the phrase "Pale Moonlight" fulfills some hidden 90s schmaltz quota. The rhythm of this song is calling out for an interpretative reggae version. (Oh Christ, I've just found out that Sugar Ray did a calypso version on The Beach soundtrack!) Anyways, mp3 below!

Brian Eno & John Cale - Spinning Away.mp3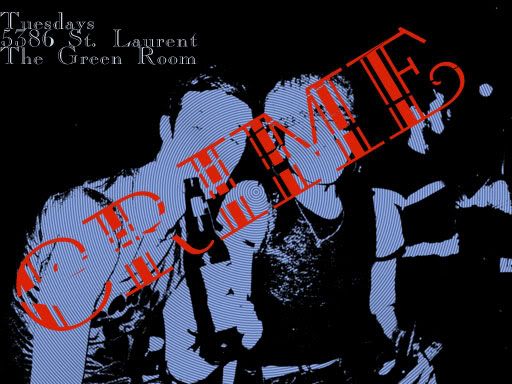 Tomorrow night in Montreal (that's Tuesday), myself and Michelle Adelman will be DJing at The Green Room (5386 St. Laurent). Another fairly incoherent smattering of whatever you might download from this blog, plenty of surprises, drink specials, Yoko Ono, Can, and Michelle's extensive record collection are all on the plate. No cover, 'f course... 11pm-3am!


A bit of gossip: I've heard through the grapevine that Shepard Fairey, he of Andre The Giant Has A Posse, is now living Montreal.


NEXT UP
FINALLY, that CAN I've been promising!