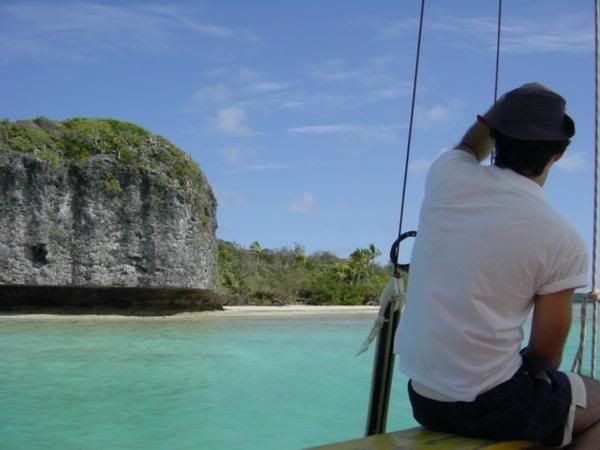 Sailor White - Mortimer Pass.mp3
Sailor White - In The Country.mp3
Sailor White is a project by the man better known to Montrealers as Crawdaddy Simon, a real mensch who displays a breath of knowledge on many bands and albums garage, psych, punk, pop and thus related that shames even the most in-tune autodidact (you need a comprehensive breakdown on the hidden treasures of the Graf Zeppelin or The Misunderstood discographies? He's your man!). He puts that expertise to good use in monthly DJ gigs (called "the best rock n' roll DJ in town" by wiley ol' codger Jonathan Cummins in the pages of the Montreal Mirror), and now I've got a couple of four-track demos from a new project he's working on titled Sailor White that I've been quite excited about since I was made aware of 'em.


Fans of that Heron song Yellow Roses that I posted a while back will find a similar whiff of the pastoral in the instrumental Mortimer Pass, which could just as well have been recorded in a meadow, too. Whistfully melodic, it's the sort of song that one hopes to have playing on a lazy summer morning. In The Country is a paean to the inherent pleasure of escaping the city that's been set to bongos, acoustic and electric guitars that kicks it up with a great rolling guitar lead before the chorus' reprise.


When I asked Simon about other things he's been involved, he mentioned a "modest contribution on acoustic guitar to the new album (Red Rayon Flower, Night Beneath The Sea) by Rivers & Mountains alumni Emerald Cloud Cobra". (There's actually a launch for that album here in Montreal at Toc Toc (6091 ave du Parc) this Friday. More info on the album, check here.)


Ladies, Simon is single and an Aquarius...
Punters, drinkers, music fans and potential suitors (suitresses?) should check out his upcoming DJ at Casa Del Popolo (4873 St. Laurent) on February 7th. Get in touch with him through his myspace page, check out some more songs and bug him to put together a band for some live performances. A little caveat: I've already called dibs on playing the bongos. Maybe you could play flute?


Strangely, Jaime over at the always-on-it, must-read Daughters of Invention blog has a post up with a couple of mp3s from Hamilton band Sailboats Are White. February 1st: a nautical sorta-day. (SAILBOATS! SAILBOATS! NOT SAILORS! SAILORS CAN BE WHITE OR BLACK OR RED OR YELLOW OR STRANGELY GREY IF THEY'D REALLY LIKE TO BE! IN FACT, ON CERTAIN TRIPS IN TREACHEROUS WATERS, SAILORS CAN BE GREEN IN THE GILLS!)