Swervedriver - 99th Dream.mp3
There's a new overview of Swervedriver's Creation Records output floating about that I'd recommend to anyone checking out. Oxford was more than a city of scholars and lawyers and Ride and Radiohead, apparently. I'd heard the name bandied about a bit, Olga from The Besnard Lakes was rumoured to worship the group, and having a more than unhealthy interest in the back catalogues of The Jesus & Mary Chain, The House of Love, Ride, My Bloody Valentine (not as unhealthy as JRC on that one - that boy's suffering from a deep-rooted obsession with Kevin Shields), and the other brighter and lesser lights of the shoe-gazing scene (keep your Sigur Ros, Ambulance Ltd. post-shoegaze recommendations to yourself if you have them, though you probably don't - thanks) made it only a matter of moments before
I found myself struck dumb by a track like 99th Dream, with its Ventures-lifted guitar-slide intro and whirlpool of effects-laden guitars and Anglo moans. A pre-cursor to Dylan's 115th Dream, and set to appear on their Geffen debut, before their A&R guy got canned, and they settled for Zero Hour. A great song for bicycles!

This is the internet, the 21st century, a new age, so I'm far too lazy to try and contextualize any of these tracks in terms of the albums they appeared on, and, hey, I don't have to - there's All Music Guide for that!

Swervedriver - The Other Jesus.mp3
The Other Jesus, our second selection, comes alive with hammer-on guitar leads, slightly similar to MBV's tremolo drops, and that's one hell of an unfortunate bass-line intro, preparing you for some high school band's rendition of a Rage Against The Machine song, or maybe Helmet. (Songs about Jesus seemed pretty de-rigeur in the 90's, huh? Depeche Mode's Personal Jesus, Ministry's Jesus Built My Hotrod (with Butthole Surfer Gibby Haynes on lead vocal), Jesus Jones, and who
could forget the pride of New Berlin, Wisconsin, Housecat Sized Fennec, with their chart-raging number Do The Jesus? Anyone remember that song Bigger Than Jesus Now? I can't recall the band's name, but in the video, the lead-singer/guitarist was wearing a THIS IS NOT A FUGAZI T-SHIRT shirt.)

Swervedriver - Son of Mustang Ford.mp3
Heads-up to T.Dot's Are You Familiar blog with the early song Son of Mustang Ford, an early song that convinced Alan McGree of Creation Records (now svengali of single-lovin' Poptones) to sign the group. Allegedly he first heard this song while driving in a limo, and woah, it's a song about driving!

Swervedriver - The Birds.mp3
Here's a song that's the genesis of my "BUffalo Tom but way better" brainwave. There's an April Wine reference in here. Listen to the snarky drawl on these lyrics, huh? Disaffected generation Xers, who were "born on an aeroplane."

Swervedriver ended tragically as a result of Adam Franklin revealing an affinity for bearded Christian rockers Pedro The Lion in a post-humous(???) interview.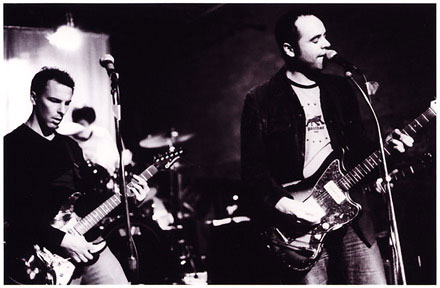 As you've just heard, the 1990s was a boom decade for production that accented the ride cymbal. Colin Stewart, bearded studio guru at Vancouver's The Hive, related a story a
couple of years ago about Ride playing in Victoria in the early 90s. Being a gigantic fan of theirs, (though, and this is a strike against him, not a fan of Carnival of Light) he struck up a conversation with them and they ended up all skipping out on co-headliners Lush's set to go to a movie. Uhhh, I have no more Brits in Victoria anecdotes, though, I should, that's the city's whole schtick, isn't it? Hence the double-decker buses, tea-houses, Wax Museum, and old ladies in weird hats. Quaint!