Farflung - The True Wheel.mp3
Eno's being re-considered by the youngsters again (I'm sure this happens every two years or so) - James Murphy honours him in song, Exclaim! chronicles his career, his albums are re-mastered and re-issued, he's got a new (and sadly mediocre) album out, and my obsessive searching for the relics and off-cuts from his back catalogue have lead me down some stranger paths. At some point some years ago, space-rockers Farflung covered The True Wheel from his Taking Tiger Mountain By Strategy album. The only band on Cleopatra Records that I've ever liked, fronted by Tommy Grenas, a gentleman who's worked with most of the leading luminaries of the rock kosmische scene, ya know...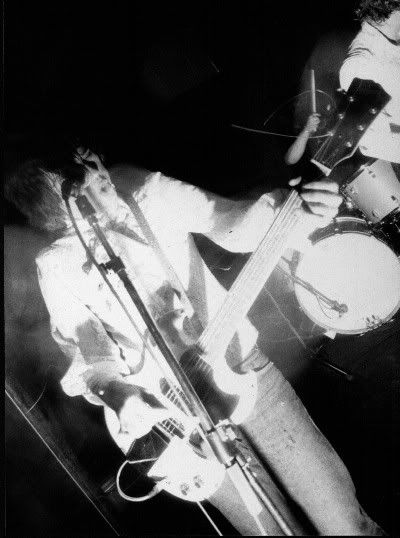 Vue - Child For You.m4a
San Francisco's Vue, formed out of members of somewhat forgotten drop-tuning (C, dude, it naturally compliments E!) emoters Portraits of Past (check out that classic Scallen photo on the back of the Ebullition LP) and Bauhausian damaged art-rockers Das Audience made a lot of promises on their debut EP for GSL Records. The EP was initially supposed to be an Audience record, but the band faced a legal challenge from a German group. The first track, Child For You, an organ and tambourine with shaky and frantic guitar made such a strong statement coupled with the rest of the tracks that the subsequent albums seemed something of a disappointment (moving from GSL to Subpop to RCA), despite the presence of some strong material. I saw them two or three times in Victoria at Logan's, and their stage presence was beyond compare. Their manners as guests (ask host Adam Benzan) left a bit to be desired, but what more could you ask for out of a visiting rock band than a pepper spray attack and confusing towels for toilet paper? If you get a chance to pick this EP up, and I'm sure it's still in print, do so. The last track The Voyeurs is a natural compliment to the track above.