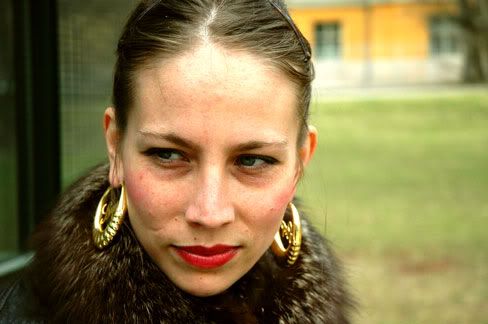 JENNY WILSON - Let My Shoes Lead Me Forward.mp3
The Knife (feat. Jenny Wilson) - Take My Breath Away.mp3
31 year old Swede Jenny Wilson, (mother, occasional The Knife collaborator - that's her on calypso-electro grinder You Take My Breath Away above) played, produced and slammed together a wonderful 12-song debut, Love & Youth that came to me a little after... Her unique voice, a precious mixture of the Bee Gees' Gibb brothers falsetto and stage-trained projection, belongs squarely in the idiosyncratic corners of 70's AOR. The production is rich and smooth - vibes, rhodes and other organ flourishes are coupled with acoustic guitar recorded to Tony Visconti's standards, and the clean and sparing production allows both the diverse instrumentation and vocal overdubbing to stand-alone. A head-nodding, stylish, substantial and sophisticated debut: the appropriate mixture of economy and abundance...

Let My Shoes Lead Me Forward, the single, is upbeat, with a great bridge and soaring chorus, that struts, bobs and dips...

Related... Swedish duo The Knife, comprised of Karin Dreijer and brother Olaf (aka Dj Coolofs) have a new album ready for a March release, tentatively titled Silent Shouts. The last album (Deep Cuts) was a treasure-chest for producers, overwhelming with enough textures, ideas and skewed melodies, as well as a dance-floor favourite, that my expectations are running pretty high for this, occupying myself with the Vitalic remix of Royksopp's What Else Is There?, which features the unique, parsed vocals of Karin, and their remix of labelmate Jenny Wilson's Let My Shoes Lead Me Forward. If you haven't heard The Knife yet, or alternately you're creeped out by them (my first reaction), I'd suggest investigating a bit further. There's a similar creepy theatricality that the group shares with Destroyer's Your Blues album - a world where the weight of history and decadent rot is temporarily lifted by the timbre of the midi trumpet.

I have to tip my hat yet again to the impeccable taste and crate (err, mp3?) digging persistency of Greg at AYF, after yesterday's post introducing me to West Coast r&b-pop quartet (nooo, don't run away, come back!) Velella Vellela. Hit it up.