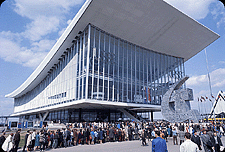 After Expo67, Montreal was a barren cultural landscape of isolationist Ivory Tower academics and E-popping raver-hippy hybrids until PopMontreal came along...

The last night of the PopMontreal and no reported overdoses, which makes the event an unqualified success, though I'm wondering how many washes the pile of clothing in the corner of the room is going to take before it ceases reeking of cigarette smoke. I caught Frog Eyes on Wednesday night - they played a half hour set to a crowd of respectful, if slightly bewildered, CEGEP Tegan n' Sara fans... Genevieve et Mathieu's inspired performance at Pavilion 2 of old French children's songs, scronky no-wave missives and bewildering "House of The Rising Sun" re-works set the pace for a night of industrial strength boozing and dance-floor busting in an out-of-the-way venue that managed to bring out a more than respectable crowd. Robin Simpson's mischevious placement of the hide-a-bed promised a lot of action, but unfortunately didn't deliver any - although after a number of dixie cups of Griffon Blonde, I probably wouldn't have been able to stomach any spontaneous exhibitionistic practices. Though I spent most of last night in a corner, contemplating whether or not one could follow up Madness' "Our House" with Brian Eno's "Third Uncle" and other such demanding dilemmas, I did get to escape for a brief period when teetotalling Warren Hill spun a bit, and caught a glimpse of the free-styling action in the other room at the Long Haul space, which reached some sort of arbitrary capacity fairly early on into the night. Being a man of slight height, I only managed to see a Besnard Lake-ian thumping away at the bass guitar while a gentleman in an afro (HIP HOP WATCHERS, whom was that?) traded rhymes with a short, lil' hispanic man. That wasn't Kool Keith - that wasn't Beans!


Apparently Franz Ferdinand was delightful, as were the Dears, performing some sort of Rock Opera (a little early in the game for that sort of thing, don't you think? But when one begins grandiose and slightly baroque...). Donald K. Donald's Indian food was a little cold and the music videos projected on the backwall of the Main Hall (slash Mile End Cultural Centre) were perfect fodder for slack and lazy sarcastic commentary. "Is that Sook Yin Lee? What's she doing? She's a nurse now? A mail-order bride?" "A screamo band with a brass section? BRILLIANT!" I'm loathe to admit it, but I'd never heard of this gargantuan Torontonian power broker before, perhaps not following the careers of I Mother Earth or Remy Shand as closely as one would expect, and ol' D-Squared himself didn't even show up!


Late night party-attendees might want to keep this in mind for future soirees: waiting a couple of hours before ample coke-dust settles on the window-sill and taking it all up your nose about five minutes prior to 7am is probably the most cost-effective way to party... Alone. Others might try the approach covered in the most recent issue of New York magazine and long practiced by sensible sorts I've had the occasion to mingle with once or twice: snorting drugs prescribed for ADD.


Mission of Burma will be performing in about 15 minutes at Cabaret, though I'm sure it's a long shot to get in at this point, even with one of those fancy Pony or Nokia passes dangling about your neck. But then, those in the know will be making their way to Miami tonight, to capture a performance sponsored both by Deeselig's own Dingrod (arguably the biggest street-legal in this city) and Zellers. Heart of Amulet, a duo stuffed to the neck with a pervasive sense of historical importance and thematic brilliance (????) perform at 1:48am exactly, just after The Faggot Face Forskins and prior to Burning Pit of Hell and Cougars Are Lovers, Too. Pack yourself into the only venue in the festival with a noticable Russian mafioso presence and enjoy the plywood interior design scheme and stale beer.


The Forms didn't make it across the border, thus forfeiting their match against locals EchoKitty. Sending in a Helmet coverband as their replacement didn't achieve the desired effect either, though the one dreadlocked and braided-bearded gentleman (I had once shared a taxicab to Old Montreal with his companion, who was just at that time peaking on mushrooms) who had recently sucked back some LSD really dug them.


More PopMontreal stuff, including photos and snarky comments about industry people with bad pants/hair to follow in the next few days...