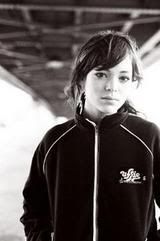 Uffie - Ready To Uff.mp3
Cut-to-shape perfect bio: pint-sized female rapper with a foul mouth, originally from Miami (f'real?), worked with Feadz (that's her boypal, sorry, fellas), remixes by Mr. Oizo and SebastiAn, a 12" (Pop The Glock) released on Pedro Winter's Ed Banger Records, and all of 19 years old. This is cross-continental stumble-hop with RapMaster synth-estra hits, which gives me high hopes for the upcoming full-length. Jesus, with the exception of Poirier, Ghostface & Spankrock, the only new hip-hop I've been really excited about has been from Europe (Modeselektor, Roots Manuva, TTC, et al.), huh?


Unfortunately the Uffie/Mr.Oizo/Feadz tour wasn't able to stop by Montreal this time given the short notice, but I'm hopeful that Uffie will be here sometime soon. MEG, perhaps?


Curious nerds can drop paypal euro$ at ARCADEMODE, or get creep-like at her myspace page.