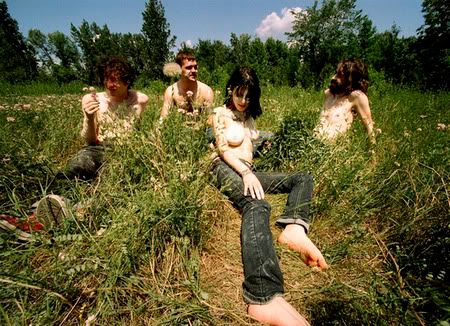 AIDS Wolf, massive fans of Merchant Ivory films, pay homage to 1973's The Savages.
I ran into Beaver in front of McGill a couple of days ago, his bag full of loot from the burning house of CD Esoterik, returning home to put the finishing touches on his album. He had an advance copy of the new AIDS Wolf record - the packaging looked amazing, and yep, one of those infamous nude photos (taken by local aperture master Yannick Grandmont) is smack dab in the middle of the four-part fold-out liner notes. Pre-order the album from Love Pump United here.


AIDS Wolf - Multiply.mp3
The quartet is playing this Friday, part of a benefit for label-mates DBMQ, who were recently in a tragic car accident. Lend your support and cash, there are details here.

@ Zoobizarre, 6388 St. Hubert. 21h, $10. w/ Duchess Says, Dead Messenger, and Ex-Girlfriend.