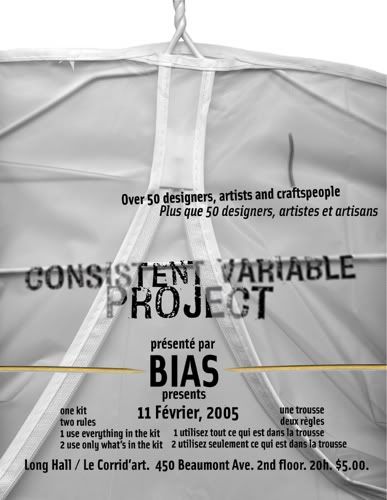 Tonight at The Long Hall (at 450 Beaumont, off of Ave. du Parc), there's an event called The Consistent Variable Project happening, involving a whole swatch of dedicated seamstresses, artists, crafty-types, designers and the sycophants and hang-abouts that populate their lives (myself included)...
I love Dylan Young like the black-spotted brother he is to me, but attaching the moniker "no-wave" to Montreal's finest pre-CEGEPian pop group Donkeyheart may bring out the sorts of people who covet the 1.5 Dancing Cigarettes releases to one of the 40 shows on their hectic Montreal tour. However, according to their blog, one of them has just discovered Nietzsche, it's a confusing time for all and the 21st century is no time for genre squabbles. Prepare for the ubermensch! They're performing tonight at El Salon to benefit Head & Hands. Doors at the usual time, I suspect, wear moustaches and infect thyself with syphilis in preperation.


Hailed by many as the next Donkeyheart, or possibly Telefauna's upstart younger brother, Code Pie mix up the best elements of Yo La Tengo and Bon Jovi. Jersey-Pop Frappe. Hidden In Buildings make you keenly aware of how long you've been standing for, Brian Lipson represents the hope for the future of Earnest Beard Rock (EBR for short), and Deadbush happen to be on the bill, too (and yes, Donkeyheart again!) for yet another Tsunami Relief benefit, this time at the Electric Tractor (6674 de l'Esplanade) on Saturday night.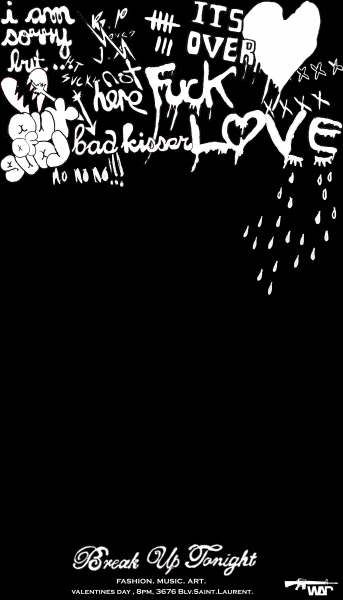 On Monday, I'll be DJing at the BREAK Up TONIGHT fashion/music/art event, featuring items by Montreal designer Julie Clark (amongst others) at the War Gallery, 3676 St. Laurent. Hike up to the 3rd floor. Doors are @ 8pm.