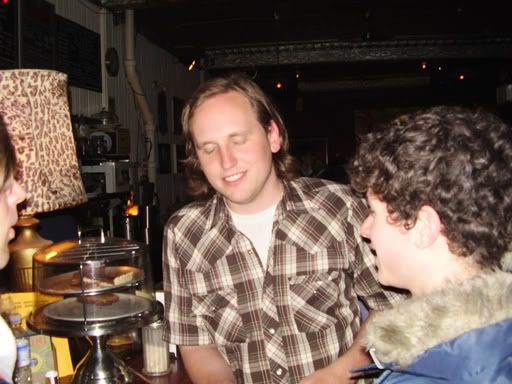 It was the only photo of Ryan I had...
Himalayan Bear - Aloha.mp3
Unless I'm mistaken, which occasionally happens (and how!), Vancouver Island is about as close to Hawaii as one can get in Canada... Which makes this track all the more apt. Himalayan Bear is the nom-de-chanson of silken-voiced Ryan Beattie, he of Victoria's Chet, whom (if you were watching) dropped a gorgeous album Kau'ai (Hive-Fidelity - in Europe on Labelman?) earlier last year that spent some time on the college charts and more time in my CD player. (They've apparently got another one on the way.)

Ryan's distinctive voice, capable of baritone and falsetto leaps that would injure most other human beings terribly, working with a lap-steel, makes the perfect sound for this song, which suits my current desire to escape the damnable Montreal cold for tropical beachland. Even if I have to wear a grass-skirt.

Aaargh Records will be releasing the Lo, Lonesome Island! EP, from which the above song is taken, in a month or two. Jump on it!