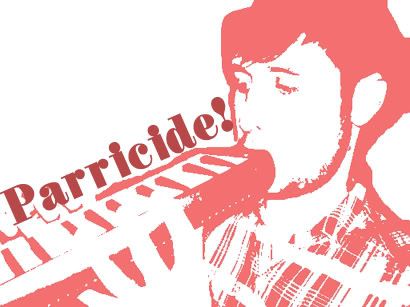 An ambitious pop quartet running Devo and genre-specific pop allusions (that Cultural Studies degree has real-world applications?) through lo-fi circuitboards, Telefauna is another entity making castles in the early 20s sandbox, applying a rare eye for technique and craft that isn't obsessive (fourty guitars layered through your four-track does not an album make), or half-assed, but made in the same spirit as The Go! Team. At last year's Pop Montreal they packed PreLoved's in-store with an enthusiastic set hampered only slightly by a number of tech. difficulties (crappy mic stands, a bitchy and unco-operative drum machine) and won over the crowd, and this year promises more good things for the kids, who package up a lot of promise, talent, wit and good natured fun. Truly!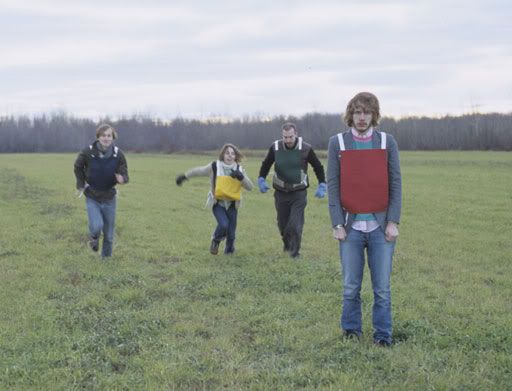 Telefauna - Phantom Limb
Telefauna's First EP was self-released late last year, a dynamite stick of a four-song release packed with ideas, hooks and that cleverly knicked production techniques from hip-hop's leading lights. Culturally aware, but not trapped in some nightmarish feedback loop, it was a promising first shot from their camp, refugees from the Thunder Bay gulag. What's the last thing good to come out of T. Bay since domestic comic strip For Better Or For Worse? Is that even from there? Do I keep making the same unfunny and incorrect joke over and over again? Phantom Limb is one of the stand-out tracks on the EP, featuring a percussive wah-wah rhythm guitar, analogue synth-stabs which transform into octave jumping and rolling basslines, that form the basis of a pretty stomping song that ends in over-dubbed arpeggio. Sweet.

Telefauna - The Latest Information (Booji Boy Version)
This song's not a single from a recording session just completed with Graham Van Pelt, whom you'll remember from Parricide v1.01., but they will be working with him in the future. Of The Latest Information (Booji Boy Version), Tyler says it "might just be a single, or if it stands up, we may rework it" for a new release, set to see the light of day in 3 or 4 months. It satiates the market's demand for melodies based on the the Arabic scale and rhythms, which grew out of the cultural uncertainty citizens of the West now feel after 9/11. Like Aladdin, which articulated the dearly held myths about the Middle East and Arabic culture of many North Americans. That is, there are genies (mostly wacky, sometimes evil), and there are royal families, and also, shady merchants. Everyone wears billowing and pleated pantaloons.

As befits a bunch of youngsters who've yet to have their dreams dashed on the jagged rocks of reality or post-graduate aimlessness (I didn't even get that far!), they cast their talents far and wide: front-man Adam Waito devotes some of his time to the handsomely-designed gender studies journal G-Eunuch; Tyler Rauman is an accomplished illustrator who's hand can be seen behind some of the more phantasmical posters around town (get a glimpse here); Katherine Peacock has her own project, the psych-pop cabaret group Dorian Hatchet; and Ian Goodman, well, peek over at his myspace page for the details on that...

Check out more mp3s and buy their EP at www.telefauna.com.