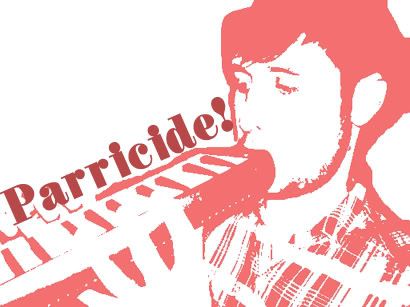 I've known Jordan Robson-Cramer for a number of years now - first encountering him as the precocious youngster who showcased a Sven-Gali like mastery of his first high-school band, whom I caught playing beside city hall in the summer of 2001, and from there as excitable contributor to bands and projects in Victoria (Short Pants Romance1, for one), who maintained a studio in the basement of his mother's suburban home, and was often spotted with a bag of candy in his hand and a whole smattering of enthusiastic opinions on music he was discovering. 21st Century Fox, a small studio project, showcased a love of frantic, neu!-wave leaning art rock harkening back to the better elements of The VSS' catalogue (Nervous Circuits!), and was sold as a CD-R at Ditch Records.

Jordan, at left, with Toronto's favourite electrician, Derek. Note to Jordan's mother: he does not smoke.
Like many good people Victorian, he's since moved to Montreal, making himself known as probably the only one of the ex-pats who's French-speaking, tinkering a bit under the moniker XY Lover, and more recently, playing with fellow multi-instrumentalist Mathieu Malouf (a native Montrealer who has a knack for coining phrases that sound as if they belong in Damio Suzuki's lyric book) and devoting time to Sunset Rubdown, which is Spencer Krug of Wolf Parade's other project.2


X Y Lover - Expand Your Instants Into Oblivion
Expand Your Instants Into Oblivion fits handsomely into an aesthetic school of artists that are re-examining the ambient pop and studio wizardry of My Bloody Valentine. Like Animal Collective and Caribou, this is richly textured ear-candy: Spector-esque production techniques are utilized to force effects-heavy guitars and manipulated sheets of white-noise into fulgent waves, dreamy and rhapsodic.


X Y Lover - Your Parents' Funeral
Another fine example of JRC's studio and compositional skills, Your Parents' Funeral is a drugged and heady two minute trip that comes alive with a pair of headphones. The overdubbed half-mumbled vocals, lilting guitar lines (like that bit in Television's Marquee Moon, I envision cherry blossoms falling... Really!) and extra percussion that appear halfway through the song, as instruments and tracks slowly fade out, are the key components in this, which feels like an excerpt for a larger work that stands well enough alone.

(More tracks from X Y Lover are available on his New Music Canada site.)

I'll put a couple of more tracks within the next few weeks, specifically ones from the project that Jordan and Mathieu are involved in, after they're done adding vocals and polishing them up.


1. Short Pants Romance, named after a line in Dylan's Subterranean Homesick Blues, feat. Arlen Thompson of Wolf Parade as the initial drummer, after a couple of tumultuous years morphed into Lakeboat.

2. Sunset Rubdown just finished recording 11 songs with Jace Lacek of The Besnard Lakes at his Break Glass Studios (where the beds for the Islands record where recorded), and from a sneak preview I've heard, it's going to be one of the highlights of 2006. Absolutely Kosher will be dropping that on May 2nd of this year, to coincide with their tour with critical and audience faves Frog Eyes.